BIOMASA is a partner on international conference VI Forum biomass and waste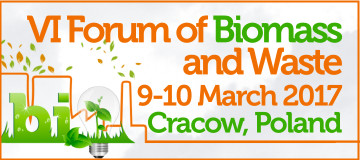 BIOMASA has become involved in the partnreship on the international conference VI Forum biomass and waste, which was held in Cracow (Poland) during 9. - 10.3.2017.
The main objective of the Forum was to bring together experts from many countries, so that they can exchange experiences on the latest developments related to the usage of biomass and waste for energy purposes.
Each year visit this event a wide range of market representatives, including industry experts, biomass suppliers, representatives of the municipal sector, scientists, engineers and technologists, as well as industry organizations, financial institutions and representatives of government and administration.
BIOMASA presented at the conference by presentation table with information about the project and activities.
Conference usually participate:
Manufacturers of electricity and heat
Producers of biomass and alternative fuels
Representatives of pellet, chips and alternative fuels traders
Intensive industries
Representatives of the Public Sector Units
Enterprises Municipal Sector
Solution Providers and Technology
Representatives of investors implementing projects Construction Plant, thermal treatment of waste, blocks biomass, ETC.
Fuel quality controllers
Betting waste management
Companies in the construction industry and contractors projects
Design and engineering companies, consulting and law firms.